The Cellerciser® outperforms all other rebounders or mini-trampolines in the market with its superb design and construction features:
All-Steel Frame
This is construction at its finest. Composite frames come nowhere close to steel frames when strength and durability are at stake.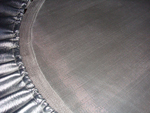 Permatron® Mat
This is high quality space-age material manufactured in the USA. It doesn't stretch out like other mats do. Instead, it supports the user and feels good under the feet. It's hard-wearing and may even be left outdoors in the rain, snow or wind.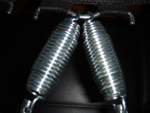 Jumbo Triple-Tiered Springs
Hi-carbon steel wire springs adjust to the weight of the user, thereby giving the same gentle and non-jarring bounce for both the one hundred-pounder and the three hundred-pounder alike. This also holds true whether one bounces in the center of the mat or off to its sides. These patented springs make the Cellerciser® the only rebounder of its kind.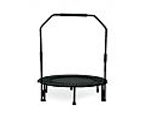 Balance Bar
The portable balance bar can be raised to three positions depending on the user's height. It's flexible enough to yield to one's movements, dramatically improving balance and eliminating any risk of injury. It's highly recommended for the elderly, the handicapped and for those doing more rigorous exercises.