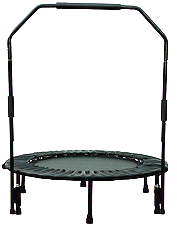 The Cellerciser® is David's Hall re-creation of the typical mini-trampoline or rebounder. He dubbed it so because it flexes all 75 trillion cells of the body, nearly a hundred times a minute. It strengthens the body from the inside out, cell by cell.
Hall has made the Cellerciser® as safe as it is effective. You will not get the jarring that you would normally get from a cheap model. Its construction and design make it the top-of-the-line rebounder available in the market today.
Cellercising® practically redefines exercise with its innovative and effective approach. The up and down motion of Cellercising® massages and stimulates your body's cells, increasing the circulation of oxygen, blood and nutrients to them.
Besides that, it is also the only form of exercise that gives your body a total work out — all your body parts, organs and systems at the same time!
So remember: don't exercise … Cellercise®!